Denture types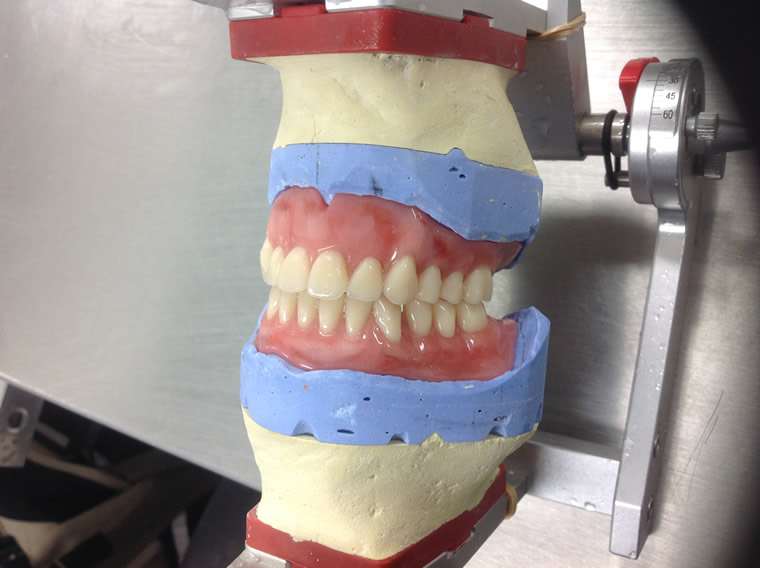 Acrylic Full Dentures.
These are utilized where a patient has lost all the natural teeth in either the upper or lower jaw or both.  The denture/s are supported by the tissue and muscle structures in the mouth.  An accurate impression of the oral anatomy is of vital importance to construct a good fitting and functional denture.
---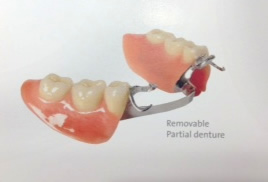 Acrylic and Flexible Partial Dentures.
This type of denture replaces one or more missing natural teeth. We only manufacture this type as an interim measure during implant treatment, as these types of appliances can damage the oral tissue in some instances.
---
Cast Metal Partial Dentures.
These dentures have a frame of metal constructed from Cobalt Chromium alloy. It is retained in the mouth by other health natural teeth via clasps and metal occlusal rests.  Acrylic teeth are bonded onto the frame to replace missing teeth.
---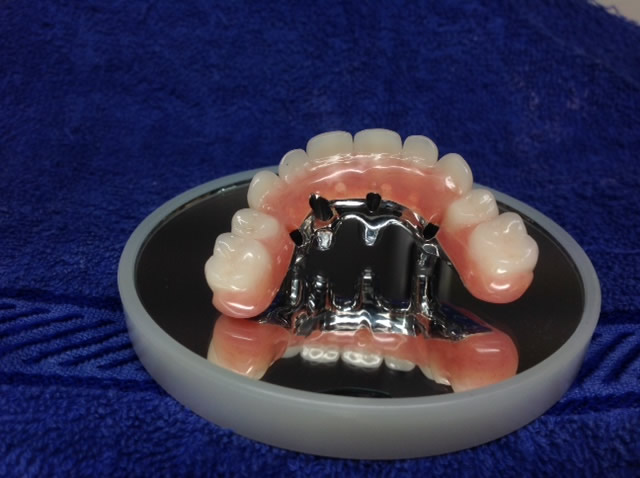 Implant Retained Dentures.
This type of denture is retained in the mouth by implants only or as a combination by implants and oral tissue.  The implants are placed as a surgical procedure by a dental specialist.  A new denture is manufactured, and it can be either screw retained or removable. 
Screw retained means that the denture is screwed into place by the clinician, and the patient cannot remove it.
The removable implant denture can be removed and replaced by the patient as required.
---
Manufacture
The process of creating your denture starts with the recording of patient details, facial shape, oral condition, accurate impressions and other records. The accuracy of these records is vital to assist in producing top quality prosthesis. Our philosophy is to work accurately, and not to rush the manufacturing process. There are many other clinicians who will deliver fast production of dentures, however we do not compete with them on speed of delivery, as our focus is on the quality of the final product, and the ultimate satisfaction of our clients.
---
Repairs
Denture repairs are completed on the same day. Simple repairs could be done in less than 90 minutes.
---
Maintenance
A complete care instruction brochure, and other cleaning aids will be supplied on the day of completion of the dental prosthesis.